If you know which book this phrase came from, then it would be my pleasure to extend my hand in honour of marrying you cause it's one of my favourites! :')
Heinously overworn Gideon Shirt - HEIST / Faux Fur Vest - Zara / Trousers - Vintage Prada / Bowler Hat - H&M / Sunnies - Proud Race / Necklaces - AMEN, Os, Lip Service, Etsy.
Decided to mishmash some random people I draw inspiration from today ; 1) Elizabeth from (http://www.ephermeral.com) who works faux fur like no other (And can we talk bout how chio she is wtf it's so insane) and 2) Wide leg pants that dominate Yohji runways and can hide a multitude of sins.
Wore this outfit to the Crawfords and Sons launch and decided that layering 923984283 cross necklaces seemed apt because Nicole (www.ncwong.com) was 1/2 of the label. I think my obsession with cross necklaces stems from her... And thanks babe for the 3-tier cross necklace! I would point it out to you guys but... yeah...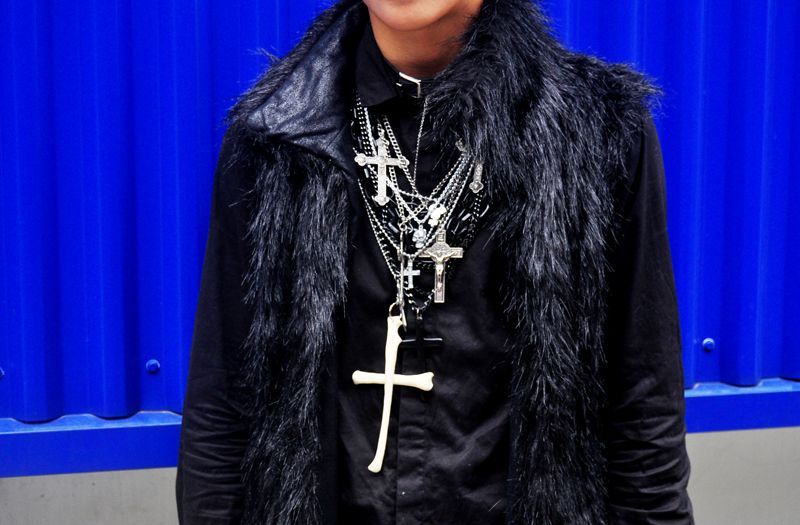 Ended the night by attending the Bash Up fashion party at Butter Factory where we practiced mild chain smoking, danced with a crazy bunch of french people (and semi getting Chris Brown-ed by them) and watched people whore themselves out. YAY TO US ~*~FASHION PEOPLE~*~.
It is now 8:05am and I've just reached home. It's a wonder how I typed this out without spewing foam at the mouth and going into lethargy-induced seizures...