So in true ~*~fasHiuNx bl0GG3r~*~ fashion, this post shall be one where I post about recent shit I bought with my NS pay (more like allowance actually) and transcend the levels of being an 1Mb4 fashion blogger HAHAHAHA. All I need now is to find a clique and be all mean girls-ey at events.
I hope you guys know I'm joking. I really am. :'D
I think it's vehemently ironic that my very first Proud Race piece was bought in Singapore considering I hung out with the designers two days in a row in Manila. But never-the-less, I think it's nice to show support to them and Jasmine of BlackMarket 02. That woman is so crazy chic and her appearance definitely defies her ages. HOW DOES SHE DO IT.
And I think the Virgin text below the Versace logo is highly ironic considering I'm wearing it HAHAHAHA OK I'M JOKING AGAIN I SWEAR.
Imogen blouse from Feist. I previously bought the Sigrid cape jacket and since the quality is pretty good, I thought I might as well invest in a decent sleeveless top with drapes. Plus the tailoring is highly spot on. But ironing it is seriously a cunt though. :/ -0.5 points for it but never-the-less, I am totes in love.
Zippered Blazer from TSR. Reminds me of Burberry's FW 2011 blazer. Plus I saw this on a DIY post by Lenne of Aetienne AGES ago. I'm thinking of adding a button to it actually so it looks like the zippers are connected.
Obscura jacket from Feist. I think the most interesting deets are in the mix of textures. There's ribbed jersey, leather and suede so it looks like I'm wearing 2 layers. But considering how fucking hot Tekong is and the recent wearing of our long 4's, my heat resistance has rose exponentially.
Despite this becoming one of my new favourite WHY YOU EVERYTIME WEAR THIS AH jacket, the sleeves are pretty tight which could mean one thing...
I'm gonna develop Madonna arms by the time I POP. :'D
Funny story actually ; Walked into DEPRESSION hoping to see Kenny & Andrew, saw this cape top on 20%...Walked out 10 minutes later $176 poorer. #fashionpeopleproblems.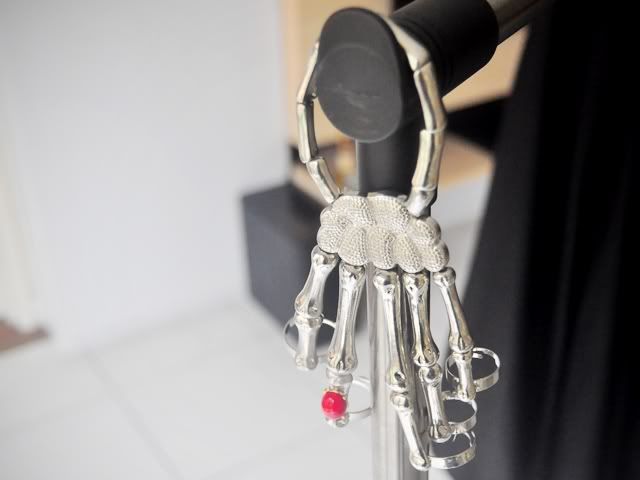 I love you Delfina Delettrez but I'm unable to pay you $8310euros for one of your accessories. So till then, this knockoff (Notice how I don't use "inspired accessory" from TheCultLabel will suffice. Something tells me that it's not meant for man hands though cause the minute I slipped it on, 2 of the straps connecting the "bones" snapped. Manly hands I can haz.
The motherload ($50000 kachings to build a pimp house. If you get the reference, you are awesome), of all purchases. The Alexander Wang "Robyn" bag. For some bizarre reason, my Dad decided to pay half of it for me and the minute I booked out last week, BAM I SMASHED MY KEYBOARD HARD AT SHOPBOP LIKE AN AHBENG PLAYING DOTA AT A LAN STORE.
M-M-M-M-M-MONSTER KILL.
As usual, I'm forever late when it comes to trends and a few months after people are going all OMG PERSPEX ACCESSORIES ARE THE SEX I WILL SELL MY SPERMS/EGGS FOR A CHARLOTTE OLYMPIA PERSPEX CLUTCH, I caved in and bought a $23 dollar clear box from Muji.
No need to thank me guys. But if need be, I would like more knit sweaters kthxbye.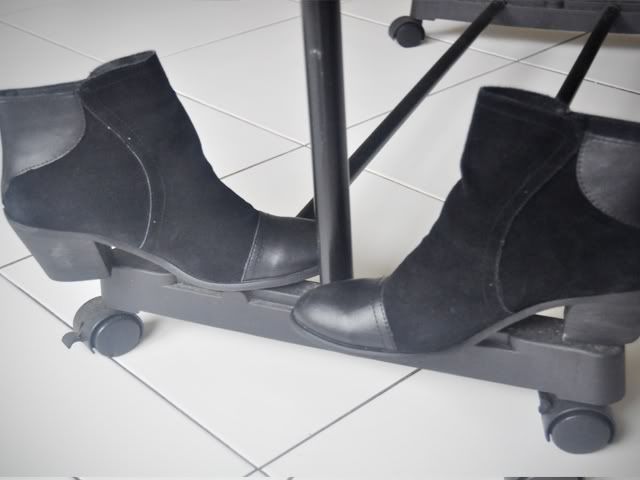 Suede/Leather boots from 5th Avenue Shoe Repair. I think JP has brainwashed me too much HAHAHAHAHA JP IF YOU'RE READING THIS...I WOULD LIKE TO SAY.. FUCK YOU AND THANKS. These babies are comfortable as HELL and I can actually run around in them.
Maybe I'll bring them to Tekong and do my cadence run in them HAHAHAHAHA.
Pony hair/Leather wedge boots from DEPRESSION. After months of trying not to cave in after loaning them out previously for a fashion shoot, I finally bought them on a VERY VERY heavy discount. They're probably the comfiest pair of shoes I own and that's saying something. Pity the leather is peeling off in certain parts though. :/
But that's okay considering how horrible I am to my shoes HAHAHAHA CUE MY A.WANG ANOUCK BOOTS. 2 weeks in and one of the heel fell off.
This is the end of my post where I pimp out new shit I bought. Stay tune for more random posts where I type verbal diarrhea.