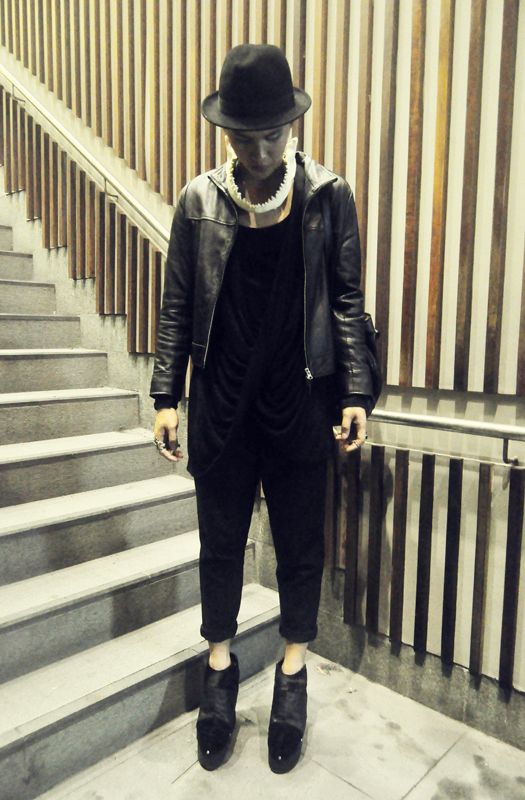 Buck leather jacket - Proud Race / Black Tank - H&M / Asymmetrical drape top - Gadget Grow / Cropped Pants - Jean Paul Gaultier Cruise 2011 / Cerebrus Wedges - Gold Dot / Jaw Necklace - OS
Relatively inspired by Yohji Yamamoto today and decided to "step japanese". Guess it's hard to shake off the whole j-rock fanboy in me which leads me to how I used to dress (or at least thought I was) like Reita from Gazette when I was younger. But that's another story for another time hahaha.
Heads up to Rik and Pat from Proud Race for kindly letting me purchase this one-off sample piece at a steal! Nothing beats sniffing real leather like the crazed shameless freak you are!
I'm a firm believer of purchasing accessories that are conversation starters (Ermagawd did you like, kill an animal to make this necklace???). Eases tension when you have nothing intelligent to say be it drunk or sober (We've all been there...right?) or the dude in front of you has a stain on his shirt and he doesn't know and you can't stop staring kjkdjkjal;fjsl;sjrlwlej;twjwjt;w;r.
Last but not least, fierce as hell wedges from Gold Dot. Thanks Karl (www.inkarlcerating.com) for reserving them for me! They give me an extra 11cm in height and I can actually breathe fresh air on public transport now! BAZINGA~