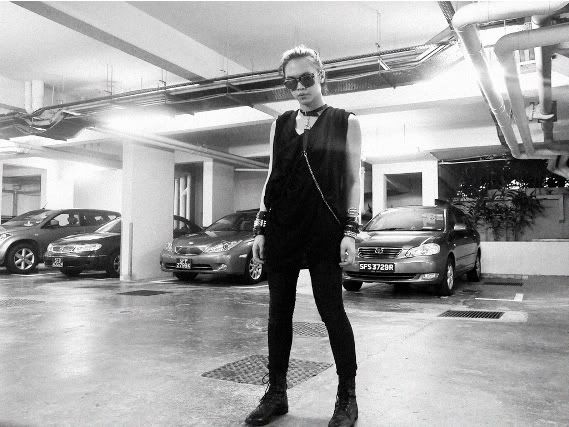 Chiffon Drape Top - Complex Geometries
Skinny Jeans - 7 For All Mankind.
Inner Tank - H&M
Ksubi knockoffs - TheCultLabel
Combat Boots - Ann Demeulemeester
Spinal Cord Harness - OS Accessories
Accessories - Montblanc, M)Phosis, Taobao etc.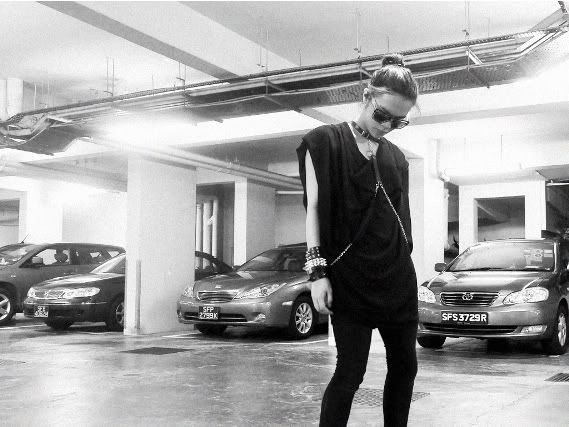 Managed to snag this Complex Geometries top at 40% off from RevolveClothing and it's really been something I've been trying to look for for AGES. Something light, drapey and sleeveless. As usual, near impossible to find in Singapore.
This seems like one of my usual uniforms for work lately because I've been too tired to dress up. Just a sleeveless drape top, skinny jeans, my hair tied back up in a tight bun and kickass shoes. I call this ; the PR Bitch uniform. Perfect for running out in the muggy weather to meetings and yet, still looking kickass even when you're out for lunch.
OBSESSED with wearing my OS Accessories (www.os-accessories.com) spinal cord harness because it really is the perfect conversation starter.
Oh hello there, is that a spine on your back? Well yes it is~
Plus it helps that it's really tough looking AND it instantly makes you look more ~*~c00l_k1D_35Qu3~*~. Snagged myself a ribcage version when I went to Manila! Pictures to be up soon!
I liken all these hardware as my daily accessory orgy because most of the time, they find themselves on my hands because I'm ~*~all about contrast~*~. I do like to balance out the softness and sometimes feminine look of my clothes with hard metalware.
Or it might just be my inner Kate Lamphear surfacing. I hope.