Chiffon Top : The Handlebar
Scuffed Skinnies : Virginblak
Anouck Booties : Alexander Wang
Rocco Duffel Knockoff : Taobao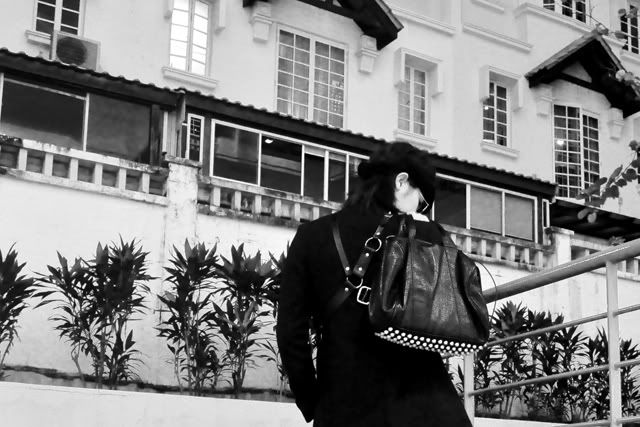 So I haven't been posting personal pictures of myself lately cause work is INSANELY tiring. It's kinda one of those jobs that you jump into, get shocked at the amount of work, have fun doing it albeit at the same time trying not to pull out your hair from stress and BAM. When it's done, you run down in flipflops to the nearest 7-11 to buy some beer.
And yes, I'm carrying an Alexander Wang knockoff bag NEXT to my Alexander Wang Anouck shoes itself hahaha. Cue people going ZOMG A.WANG BAG AND SHOES and me going "So yeah one is fake and the other is genuine I AM SHAMELESS!11!!1!!!!". The knockoff bag is my latest slave-bag meaning I throw lots of shit into it and thank god inanimate objects can't speak. Second day already and one of the studs came out.
I'm giving it at LEAST a month before it disintegrates like ANTM's credibility. Show is fucking horrible though I'm in love with Sophie Summers.