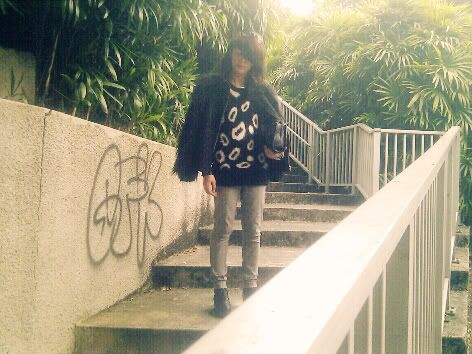 Leopard Monochrome Sweater - MAPLE
Houndstooth Pants - H&M Kids (LOL IKR DON'T ASK)
Can...I just claim that I'm currently in a recessionista mode ever since the Hongkong trip blew a hole the size of Jennifer Lopez's ass in my wallet? Everything in this outfit is like, below $50 I kid you not!!! Yes, the Zara fur coat only cost me $40 and I snapped it up much to the egging of my ex-boss's wife HAHAHAHA.
Picked up this MAPLE leopard sweater in Hongkong for only $15, the houndstooth pants which are for kids (I suspect obese ones) for $25, the platform wedges are only $16 and the skull clutch for $14. Total : $110 excluding my sunnies and accessories. $110 can't even get you a pair of Campbells!!!
RECESSIONISTA CHIC I SAY.
Pretty addicted to Pudding Camera nowadays cause it's so hard lugging my dslr around. When you're carrying 938238492083409 kg worth of clothes for loans&returns everyday, the added 600grams seems like 6kg.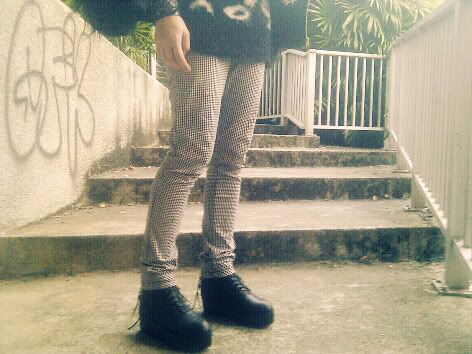 The houndstooth details aren't very obvious though I've been DYING for a matching blazer. Who knows, I might even wanna rock a full houndstooth look ala Celine cause nothing says fashion conformity like it HAHAHAHA OK I'M JOKING. Then again I also wanna rock a full red suit so yeah.
Latest haul from Taobao because I just can't justify paying ridiculous prices for bags or shoes because I'm Chris Brown-abusive to them. I scuff them like crazy and fling them all over the place. Actually pretty surprised my Alexander Wang Anoucks are still in one piece albeit a shaky heel. Somewhere out there, a Wang-et is cursing me to get run over by a yellow school bus.
Been rocking the same arm-party for a few days already! :3 I think they're gonna be my statement pieces and as the editor claims, the whole S&M look is my trademark.
Met up with Diane for dinner (A proper meal? Someone above 800 calories? FINALLY!1111!!!!) and whenever we meet, I joke how we look like a lesbian couple HAHAHAHAHA. "Would you shag me if I was born a chick? Like you know, with tits and all."
Virgin trip to Nandos and like all firsts (HAHAHAHAHA), I was SATISFIEEEEEEEEEEEEED. Could nom solely on the Mediterranean rice for like, 3 meals a day.
Hello there giant pimple on my right cheek. You are revolting just like Adam Levine's perfume hypocrisy. Other than that, it's a pretty decent picture right HAHAHAHAHAHAHA.
Diana's so cute COME COME LEMME RUV Y00.
Rocking her own arm candy. I remember her wearing that leopard spike bracelet the first time I met her in 2009. Happy 3 years anniversary mah loverrrrrr RUV Y0000 HAHAHAHA SORRY I CAN'T STOP SAYING THAT 2 WORDS TO MY FRIENDS EVER SINCE I GOT HOOKED ON WATCHING MISHKA THE HUSKY VIDEOS.
LEAVING THE OFFICE BEFORE 8PM YOU SAY? TRAVESTY!!! Hahaha we were all OHMYGOD WE CAN STILL SEE THE SKY!11111!!!!!