Fur Fringe Coat - Max Mara
Blazer - Topshop
DIY Spike Collar Shirt - Calvin Klein
Skinny Jeans - 7 For All Mankind
Harness - Zana Bayne (modified)
Drape Gauze Boots - Rick Owens
Whilst I'm typing this post, I'm happily listening to Nicki Minaj - Starship and completely ignoring the fact that
1) I'm listening to a crummy song with no meaning and...
2) I'M FUCKING LISTENING TO NICKI MINAJ IFJWKSIPOTRGJKEIOTJGE
Moving on. Hello there. Meet my new skinny jeans which I bought on a heavy discount (insert gif. image of me doing a hip thrust) and which I suspect slims your legs down and gives you awesome ass cleavage. It's like... I... finally look like I have an ass you guys. :'D
And my new Rick Owens Drape Gauze Boots which are one size too small (I actually wear 38 now, please keep your OMG SMALL FEET = SMALL PENIS jokes to yourselves guys, I already know that I look damn chao ah kwa HAHAHAHA) but LOOOOOK SOOOO GOOOOOOOOD!!!11!!!!
Yes, I'm blogging incoherently cause I don't give a fuck and I have a high fever and I'm eating ice cream and I'm on a starship which flies so high.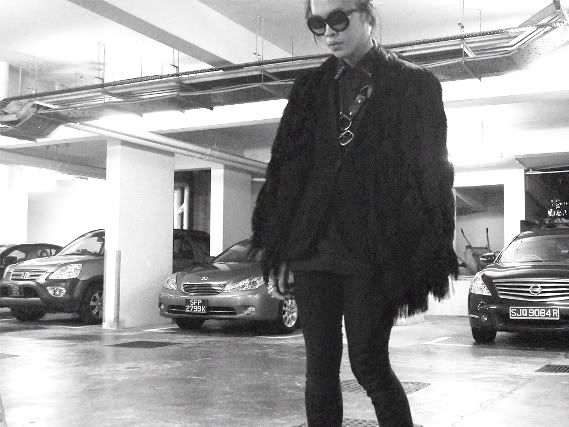 I swear to god, people in my condo are really used to seeing me pose all ~*~cool and edgy~*~ in the car park that when they see me... They wave hi instead of being all O_o da fuck dis kid be doin'?!
On a more serious note, my love for menswear has reached an all new level. I'm really digging the whole harness within a buttoned blazer look because it makes me look skanky but yet smart enough to talk ~*~srs fashion topics~*~.
"What do you think of the recent economic struggle faced by fashion designers? Doesn't recent cases like Betsey Johnson's bankruptcy highlight this emerging and ominous disease which is plagueing the world of fashion?"
Omg I'm don't know what I'm saying! :'D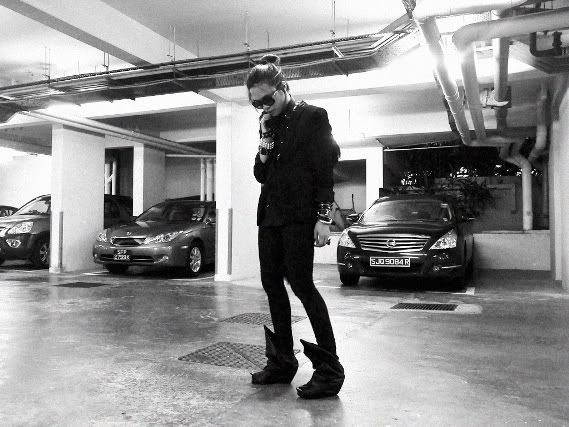 This is my "I'm so fucking cool and edgy and shit but I'm actually a derpy person who likes making fart jokes and makes awkward smiley faces at people" pose. It's really strange how most people I meet claim I have this scary aura but I'm actually really friendly!!!
Just look past the black clothes, spike jewellery and gaudy amounts of chrome I wear you guys!!!
MY SHOES MY DAMN FUCKING SHOES IOKJQEAMS;LJRMKPE;JLRFES