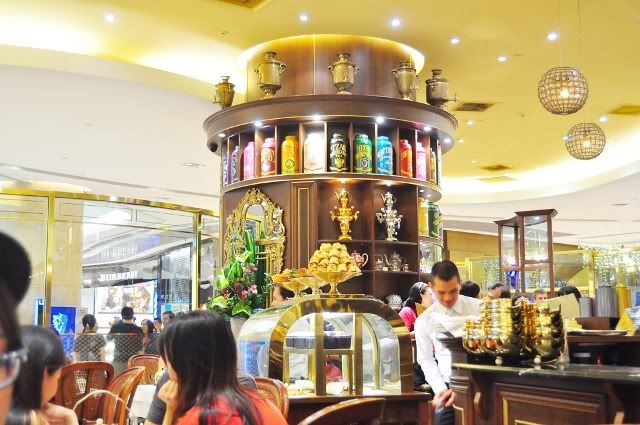 Finally met up with my online friend Derek after MONTHS of talking online about shoes, annoying classmates and what's on our next-to-buy list! :3 Decided to TWG because I was broke (sob Chrome Hearts glasses y u no cheaper) and dayuuuuum is it just me, or is it a requirement for you to be insanely charismatic and good looking to be a waitress/waiter there?
A&F, please to be practising this policy though I wonder who will pay $269 for a plaid hoodie. Go figure guys.
Had the Rose Boudoir (lmao) Tea because I'm a sucker for anything rose (Had an Anna Sui phase 3 years ago, those were dark times). Essentially you're paying $25 for 2 scones, 2 bowls of jelly and a giant pot of tea. SAVE MONEY IN THIS ECONOMYYYYYYYYYYY.
Tryna act classy but ended up spilling crumbs all over the table. #hawkercentresyndrome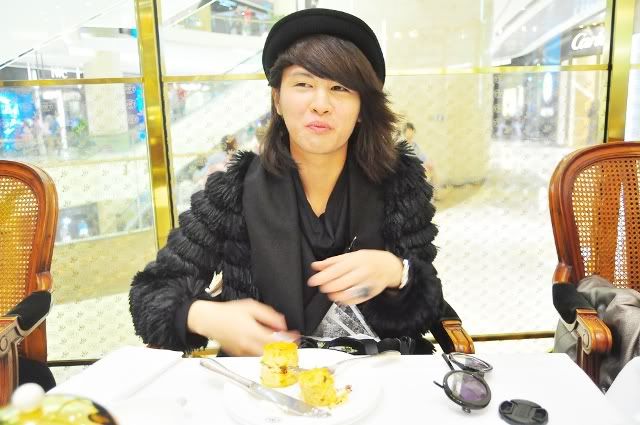 Ah well who cares still fabulous HAHAHAHAHAHA.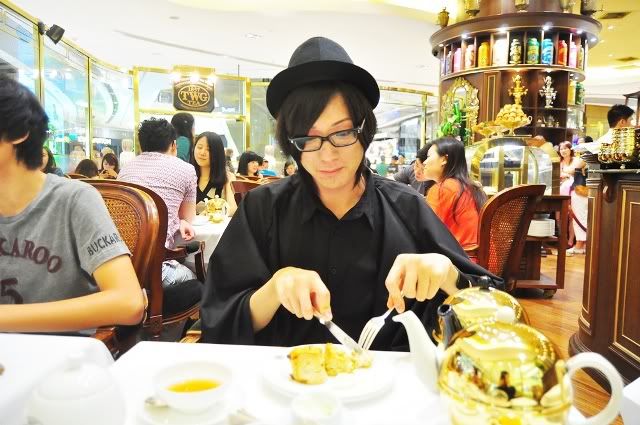 Derek on the other hand is classy enough for the both of us HAHAHAHA. Whilst I scoop cream and jelly into my mouth like the barbarian I am, he gracefully (can't think of another word LOL) slices his scones and sips his tea with his pinky out.
#foreverabarbarian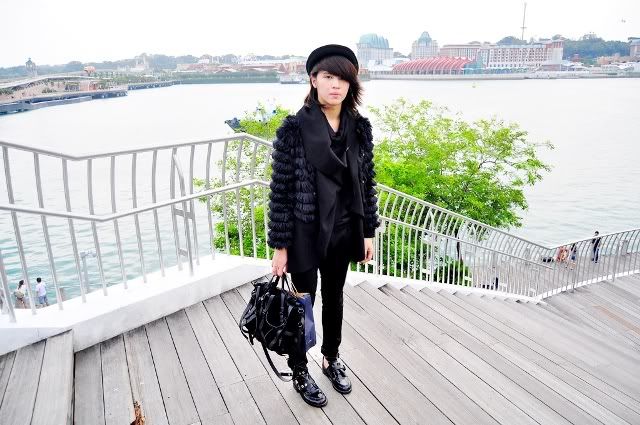 Cropped Fur Coat - The Scarlet Room.
Cowl Neck Sweater - Ann Demeulemeester.
Faust Vest - SomethingNoir.
Harem Pants - Black Peace Now.
Balenciaga knock-offs - TheLastNocturne.
Bowler Hat - Asos.
Scored this cropped fur coat from one of my favourite Singapore style bloggers ; Emma Valentino! :3 It looks ridiculously short on me but it was dirt cheap and doesn't make you pass out from heat exhaustion! :D
Worming it's way into my daily wear is the Faust Vest from SomethingNoir which I've been trying to develop new ways to wear. Sometimes all you really need are a bunch of safety pins for it to work and I'd like to think the way I styled it looks structurally interesting. :3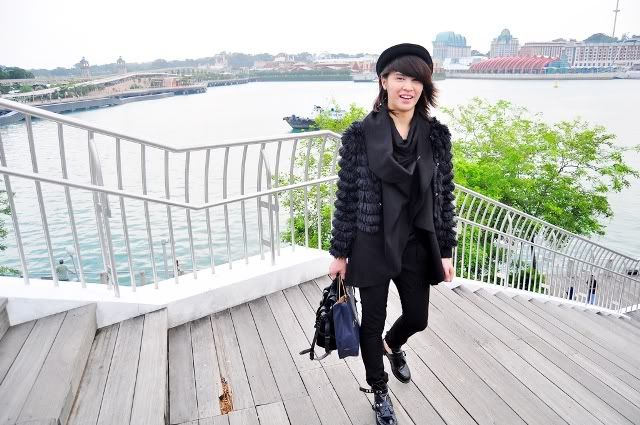 Yes, I'm capable of smiling in my outfit photos.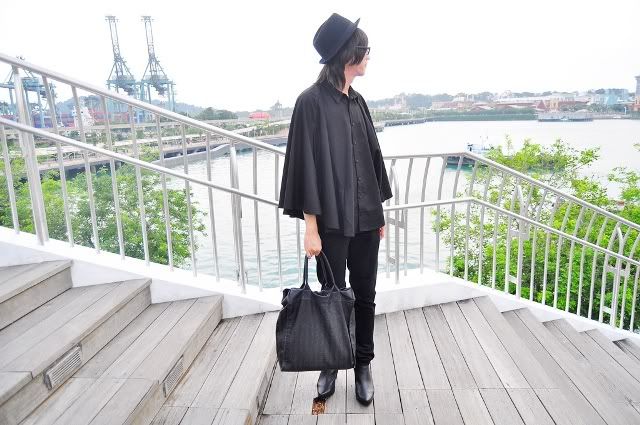 Derek looking amazing as per usual! T_T Dude left RP (More like flipped his middle finger and walked away) and is now doing Fashion in NAFA. ): Fuck do I regret not doing the same but then I wouldn't have met one of the most amazing people in my life. AH WELL LAST DAY OF SCHOOL IS ON TUESDAY.
Ps : It's nice to know people who have the same style as you. It's indescribable and amazing just like the very first bite of a Mcspicy burger.
His Jeffrey Campbell Switchblades ; aka ultimate SEX SHOES FOR MEN!!! It's heeled and the structure is FUCKING AMAZING. It's almost as if Rad Hourani stepped in to design it himself HNRGHHHHHHHHHHHHHH. But too bad sizes run so big for them. ):
I can wear a women's size 38 / male size 37 wtf. And all this while my friends are all FEET SIZE EQUATES TO PENIS SIZE which probably means that my penis is as small as Steven Lim's brains le sob.
Headed to Mel's house after for some vodka floats ; you're basically mixing vodka with a soft drink and adding dollops of ice cream. It's the adult vodka omg so good HAHAHAHAHA I drank so much that it raped my throat HARD. CORE. and I have the mother-bitch of all sore throats. ):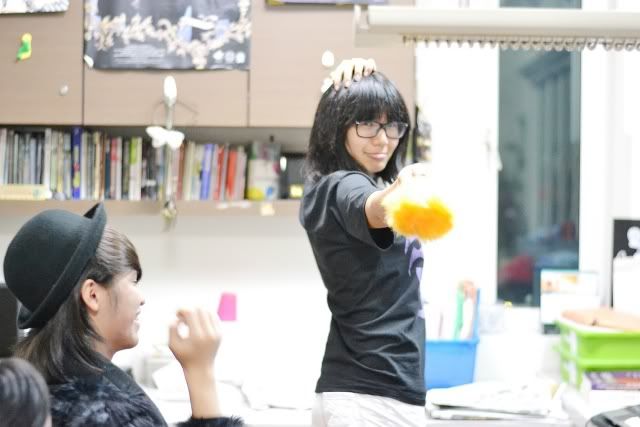 HAY GUYS LET'S DANCE TO GIRL'S GENERATION THE BOYS.
Intense concentration because SNSD's music is SO AMAZING AND SPEAKS LYRICAL WONDERS. Note how Shermaine is carrying an orange to represent a certain female anatomy. Really subtle though.
Whilst the h00manz dance and indulge in an alcohol vice, the dog decides to....CHEW UP ALL THE FURNITURE!!!
Swear to god, we weren't drunk. It's perfectly normal to wear blonde wigs and pile on fur coats to take pictures tumblr-style. Because love is our resistance and is a light that always burns bright even in the darkest of times.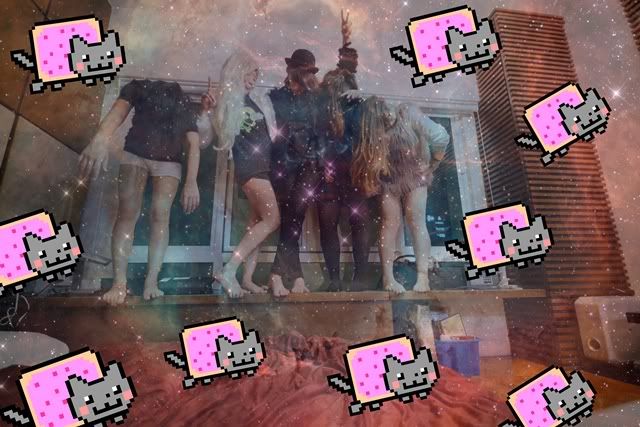 NOT DRUNK DAMMNIT.