Black Crew Neck Sweater - J+ for Uniqlo.
White Loose Pants - My brother's school pants.
Blazer Trench - H&M.
Suede Loafers - Charles and Keith
DIY Cut-out Collar - My brother's old school shirt.
Beret - Taobao.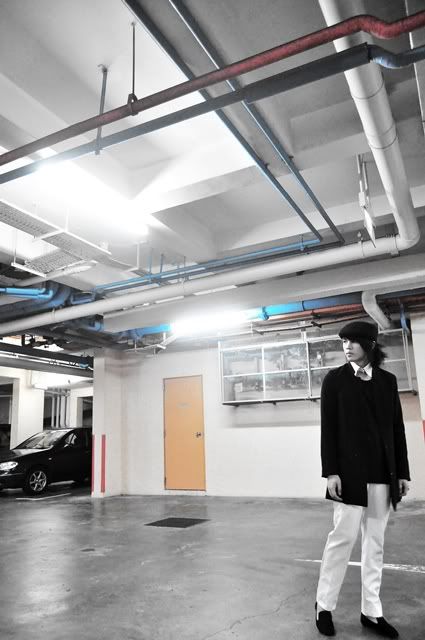 Headed to the Page One book sale after school (FUCK YES THE FINAL LESSON FOR OUR FILMING MODULE. No more angsting over story boarding, sweating under the hot sun for ungodly hours and waking up early wishing I was dead) and damn, WAS IT WORTH THE 1 HOUR TRAIN RIDE. Despite 2 of my friends being anti-books (I actually asked one if he was okay going into a bookshop lest he gets a rash LOL HUMOROUS I AM), we managed to brave the crowd and I scored a Stylist Guidebook. It's like the game guide to my future ; but in a shocking hot pink.
I always get this statement from people that I'm rich cause my clothes are a little bit more upscale but my explanation to them is that I don't buy expensive clothes because of the label, I buy expensive clothes which are made to last. For example, my +J Uniqlo crew neck sweater which cost me $69.90 has lasted me for 2 years and up till to date, I love it to bits.
And even though I buy basics, I also do love good steals or finds. Case example ; This $59.90 blazer I scored at H&M! Not entire extravagant and neither very cheap but it's something I forsee myself wearing all the time. And gone are the days where I blow money on 3939874873 pieces a month but now, I make sure that what I buy is feasible for daily wear.
So case in point, it's enviable when you see people who can blow $5898102830943898597 on clothing and wear different pieces EVERYDAY, but it's a greater feat for people with a limited budget and yet, are able to work em' pieces.