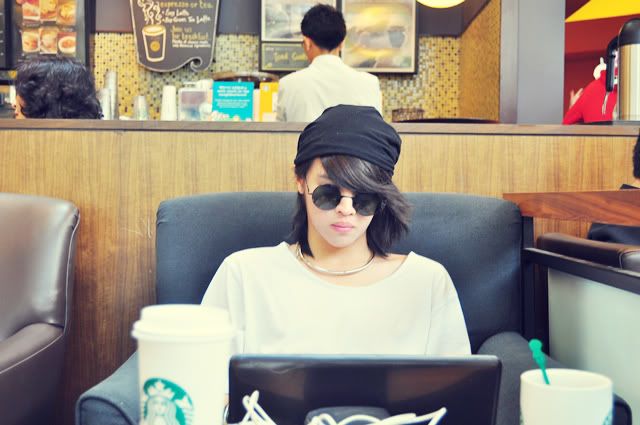 Opening this blog post with a picture of me where I look like I'm sleeping but in fact...I'M BEING PRODUCTIVE. By taking 1 hour to type 2 sections of my FYP report (Eh 1000 words ok don't play play) because I keep getting distracted by online stores. Sigh YAHOO JAPAN AUCTIONS, TAKE MY MONEY, JUST TAKE IT.
And I dyed my hair last night into.... /drumroll....BLACK. Like black ; the colour equivalent of 50Cent's soul but it ended up being this smokey dark brown colour. Y hair, y u no black. /sobs.
Has anybody read this month's Harper's Bazaar? The amount of allusions to sex and kinky-stuff made me produce a mix of O_O and 8D. Going on a threesome date? NO PROBLEM. Introduction cuffs to you this month...which will get you laid. Skimpy leather garter corset...LATEST IN THE WORLD OF HAUTE COUTURE. Other than that, the styling by Kenneth Goh is amazeballs as usual.
Meet my best friend Yun. The woman who I once fell off a flight of bus-steps with and ended up missing 4 bus stops cause we were on the floor laughing and writhing in pain. Sense of propriety? We have naught.
Hongkong sells Shark Fin and Abalone in Soya Sauce Pretz. Wet dreams do come true~
On a happier note, I'm fleeing Singapore in March with Yun to Hongkong for my graduation trip! Cue 4 days of feasting on Dimsum and Pigeon Meat (LET THIS BE A FUCKING WARNING TO ALL OF YOU WHO SHIT ON MY FATHER'S CAR), crying buckets and kneeling before the entrance to the Gareth Pugh store and buying so many clothes that immigration refuses to let me pass the barrier.
Slouchy White T-shirt - Topman
Disturbia Pants - SomethingNoir
Studded Brogues - Asos
Satchel Hobo Bag - Taiwan
Cuffs and Choker - H&M
Turban - VirginBlak
This my readers, is my rendition of the pyjama trend that has hit the ~*~fashiun world~*~. Whilst I think the look can only work on skinny boho girls (Just don't eat and bathe for 4 years, instant boho chicness LOL JKJK), this is my version of it. Slouchy silhouettes , comfy shoes and a hobo bag.
Actually who the fuck am I kidding HAHAHAHA I WENT TO TAMPINES SO I JUST THREW ON COMFY CLOTHES COME ON IT'S TAMPINES BUT PLZ HANG IN THERE I'LL START DRESSING UP WHEN SCHOOL IS OVER.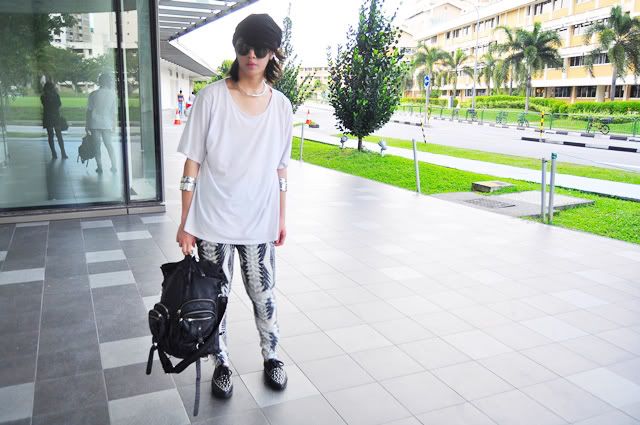 This satchel bag has an AMAZING STORY LOL. I went to Taiwan like, 2 years ago with Vicki and I saw this bag at a Night Market and was all...VICKI, IT'S CALLING OUT TO ME IT NEEDS TO GO HOME WITH ME. But Murphy's fucking Law decided to kick in cause I was reaching an all-time brokeness...BUT I STILL DECIDED TO BUY IT AND ENDED UP STARVING ON MY LAST DAY LOL.
And for some bizarre reason, the Paris for President song is running through my head. Brb shooting my brains out.